DPB-350/420/500 JV Oral Liquid (Ampoule) Flat Blister Packaging Machine
This production line is suitable for medicines, especially oral liquids, ampoules blister packaging and automatic cartoning. It can automatically detect and reject waste, the robot automatically adds the bottle, and the robot automatically releases the straw. The high-speed automatic cartoning machine puts the medicine board and instructions into the carton, seals the box and prints the batch number. The whole process is fully automatic packaging, which can achieve the purpose of saving labor on the site. High automation and high cleanliness are more in line with GMP requirements.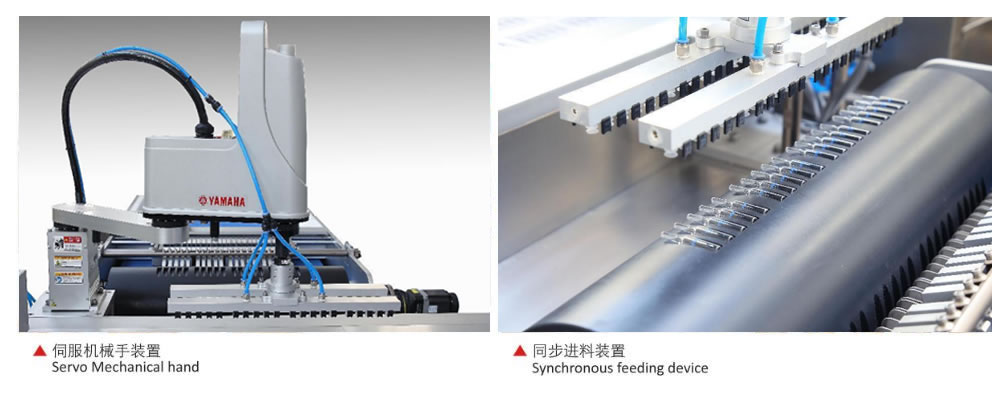 ■Flat-type blister packaging can adapt to the needs of pharmaceutical packaging of different depths. ■Imported manipulator is safe and reliable to grab the bottle.
■DPB-350JV type blister packaging machine is quick to change the mold
■Unique straw feeding device, specially designed for oral liquid
■- The body-type connection improves the product grade, and the fully enclosed cover improves the safety performance. ■Multi-servo linkage ensures synchronous and stable operation.
■The patented cantilever structure is more in line with GMP requirements.
Technical parameters:
model
DPB-350JV
Packaging Materials
Standard PVC Rigid Sheet
0.15-0.5 × 350mm

Standard PTP foil

0.02-0.035×350mm
The diameter of the reel is
70-76mm
punching frequency
16-26 times/min times/min
Maximum molding area
150×350mm (can be designed according to user needs)
Maximum forming depth
26mm
Traction stroke
Punch Punch: 20-160mm (can be designed according to user needs)
total power
380V/50Hz 12KW
Air consumption
12 m3/h (self-provided) Pressure: 0.6-0.8Mpa
mold cooling
Tap water or circulating water 60L/h
Dimensions
4500×940×1800mm
Total Weight
3000Kg