DPB-270/350JLALU-PVC-ALU(Tropical ALU) Blister Packing Machine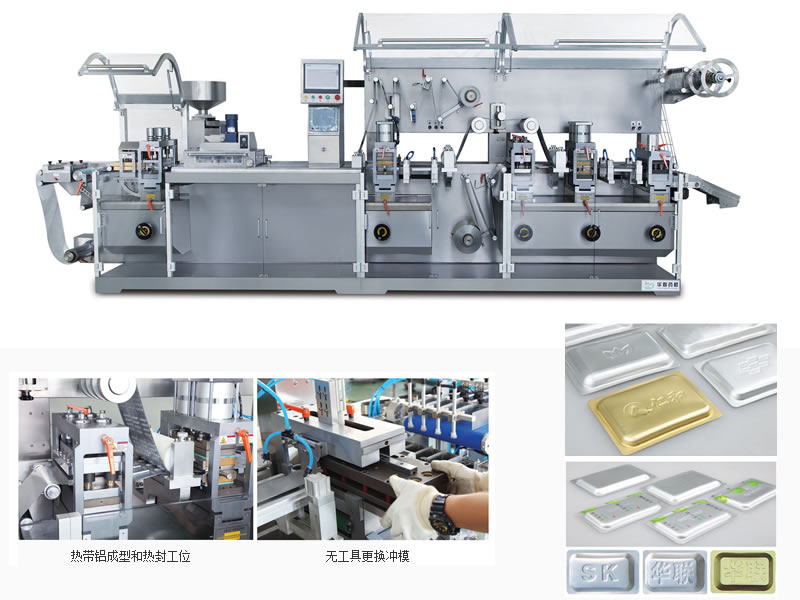 ALU-PVC-ALU(Tropical ALU) blister Packing Machine adds forming and sealing of tropical aluminum on the basis of 270/360J series blister packing machine in order to improve the way of sealing, moisture proof and light-avoiding,and raise the product level , It is widely used to pack all kind of products in pharmacy and medical heath fields.
Adopts the theory of 270J series blister packing position can be adjusted and accurately.
It adapts body-division mechanism to avoid inconvenience of transfer due to the length of the bofy 1.88m by mounting up the forming and seal in assmbky. This machine use serve double drive structure re. it can avoid synchronized bubble break cause by sudden machine stop It also can conveniently realize photocell register function, and serve air clip clip drive function At the meanwhile, it also fastens the adjustment caused during mould change. Tith this strecture. you can also set the dive distance on hunman-machine interface.
Main Technical Parameter
Model
DPB-270JL
DPB-350JL
Punch Frequency
10-35 times/min
10-35 times/min
Capacity
5400 (Blister/h)
7200 (Blister/h)
Max forming area depth
(Standard)≤250×110mm (Max)250×140mm
(Standard)≤330×110mm (Max)330×140mm
Stroke
(Standard)30-120mm (Max)160mm
Standard blister
70×98mm( can be designed as user's requirements)
Main motor power
2.2kw
Total Power
380V/220V 50HZ 12kw
Packing material
0.15-0.5 × 270mm
0.15-0.5 × 350mm
0.02-0.035×270 mm
0.02-0.035×350 mm
0.09-0.15×270 mm
0.09-0.15×270 mm
70-76mm
70-76mm
Mould cooling
tap water or recycle water 60L/h
Air Supply
0.6-0.8Mpa 12 m3/min
.6-0.8Mpa 12 m3/min
Overall Dimension (L×W×H)
5360×850×1750mm
5360×950×1750mm
Weight
4000Kg
4500Kg